Partners
Kapish
Kapish is a software and services company designed and driven to improve your experience with TRIM Context. They provide quality services and support for all versions of TRIM along with a range of software solutions and custom software development for clients across Australia, New Zealand, Canada and the United States.

Kapish has developed a suite of fully supported TRIM Context add-on products to extend the existing functionality of your system. These products aim to help organisations and their users get the most out of your TRIM ivestment, and are designed to provide cost-effective and complete business solutions while keeping usability in mind.

Kapish TRIM Explorer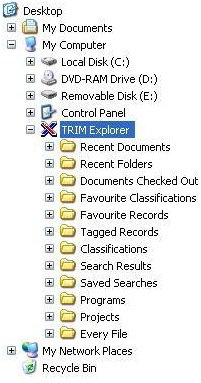 Kapish TRIM Explorer is a user friendly interface to HP TRIM Context, delivered through Windows Explorer. The key to TRIM Explorer is that it provides the most commonly used HP TRIM functions in an already familiar interface while reducing its complexity and allowing users to work smarter not harder without learning a new interface.

TRIM Explorer lets you create, find and edit HP TRIM records through Windows Explorer. It will help you work with your organisation's records in a way that complies with its business rules, without having to learn about the details of recordkeeping in TRIM.

- Save from any application directly into HP TRIM using File->Save As
- View Thumbnail images of your records
- Easily migrate documents and folders from your file system into TRIM using drag and drop
- Leave document stubs behind on the shared drives
- And much, much more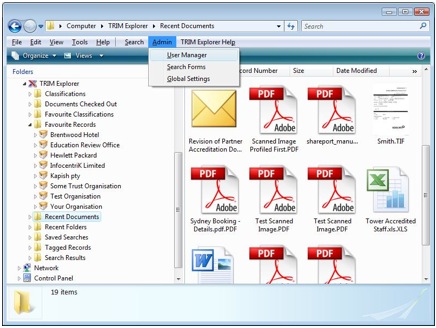 Kapish Record Inserter

Kapish has developed a Microsoft® Word Add-In that provides functionality to insert an HP TRIM record number directly into a Microsoft Word document.

Kapish Easy Link

Kapish TRIM EASY LINK is a tool that is designed to allow people to add links (or "URLs") to your HP TRIM records directly from any application that supports hyperlinks. This means that with TRIM EASY LINK you can, subject to security access privileges, link to your HP TRIM records from web sites, Microsoft® Word documents, Microsoft® Excel spreadsheets, e‐mails, Adobe® PDF documents, hyperlink columns in Microsoft® Access databases and almost any other application that allows the use of hyperlinks.

- trim://D09/123?edit
Open the record in Edit mode

- trim://D09/123?view
Open the record in View mode

- trim://D09/123?props
Open the record in Properties mode

- attached to it, trim://D09/123?email
Create an email with the record

- trim://D09/123?open
Open in TRIM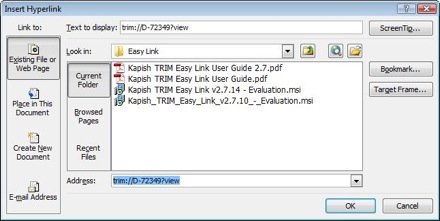 Lotus Notes Add-In

Kapish has developed a replacement for the standard HP TRIM Lotus Notes Add-In that provides advanced functionality previously unavailable to users of Lotus Notes and HP TRIM.

The add-in provides the following functions when working within Lotus Notes:

- Mapping of Lotus folders to HP TRIM folders without using document queues providing real time drag-and-drop registration of emails into HP TRIM
- Updating the subject line of emails that have been registered to include the record number of the HP TRIM record
- One click access to HP TRIM records that have been registered as well as folders that have been mapped
- Registering outgoing emails into HP TRIM as they are sent via a "Send and TRIM" button or using "Send and File" in conjunction with a mapped folder
- Inserting records from HP TRIM into new emails with the option to insert electronic documents, reference files, meta-data and renditions