Scanning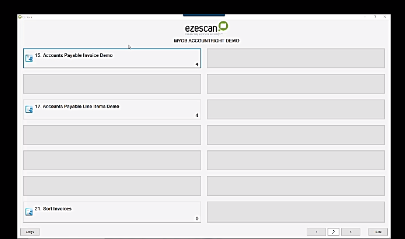 EzeScan
> Scan
> Capture
> Automate
> Integrate

EzeScan by Outback Imaging

EzeScan is Outback Imaging's flagship document scanning product suite. EzeScan is integrated with many of the leading enterprise document/records management (OpenText) systems sold in Australia and overseas. Each integration provides several levels of connectivity between EzeScan and the OpenText (e.g. directory import, API integration launching OpenText profile cards, API integration bypassing OpenText profile cards, or ODMA launching OpenText profile cards). EzeScan uses an enhanced TWAIN / ISIS scanner interface to unleash the full power of your scanning hardware (see our supported scanner list).

EzeScan is now fully integrated with Alfresco, OpenText, Objective ECM, TechnologyOne ECM, Open Text eDOCS, Open Text Content Server, Microsoft SharePoint, infoXpert eDRMS/ECM, Info Router, Interwoven WorkSite NT, Laserfiche, Xerox DocuShare, DocuVantage OnDemand, Autonomy Meridio, DocuWare and ACT! By Sage.

EzeScan's inbuilt ODBC connector allows lookup and validation from any SQL-compliant database (Access, SQL Server, Oracle, DB2 etc). The UPLOAD module can insert metadata, references to documents stored on the filesystem or document images as BLOBS directly into the database. Many clients use these features to image-enable existing systems that are built on SQL databases.

EzeScan lets you scan a document once, index it multiple times and upload it to multiple systems. For example, you could save customer service metadata and images to an OpenTexr system, and then save financial metadata to an SQL database, all in one scanning transaction.

About EzeScan

EzeScan LITE provides desktop and batch scanning user interfaces in the one tool. The product is easy to use and has all the standard image enhancement features you'll be likely to need.

EzeScan PRO extends on the functionality provided in EzeScan LITE whilst also allowing the utilisation of a range of optional integrated modules.

EzeScan SERVER provides a server based version of our product where images are scanned by a network scanner or MFD and can then be processed and passed onto its respective output location.

The EzeScan suite provides cost-effective solutions, capable of delivering impressive productivity gains. They allow the use of lower cost scanner hardware (including multifunction devices) and both applications support centralised and decentralised deployment.

There is no scanning click charge when using EzeScan. Scan as many pages per day as your physical hardware will let you.

EzeScan Advantages

- Captures your unstructured hard-copy documents in electronic format
- Saves money, EzeScan slashes your scanning deployment costs by up to 2/3rds
- Buy only the modules you need, upgrade to other modules later
- Saves time, EzeScan's simple installation and configuration gets you up and running fast
- Deploy your scanners anywhere (mail room, department, workgroup, or to every desktop)
- Scan as many pages as you like without incurring extra transaction based license fees
- A flexible, all in one product
- Excellent service and support
- Minimise your training costs with this simple, easy to use application
- A vendor that listens to what you need